Mobile Treatment Centres (MTC)
Photo Gallery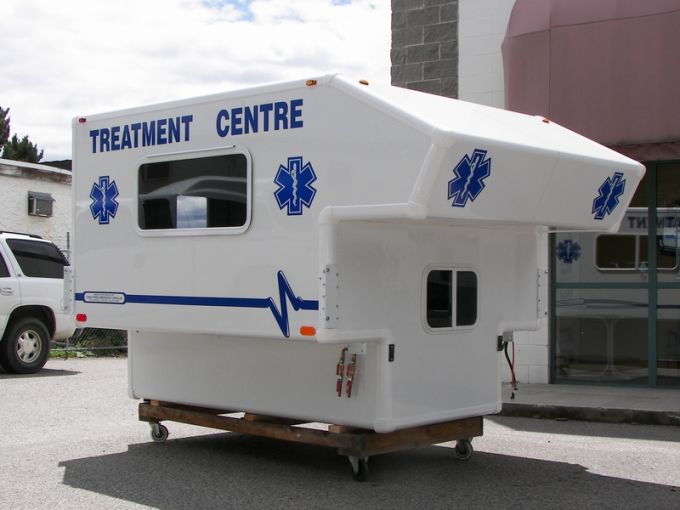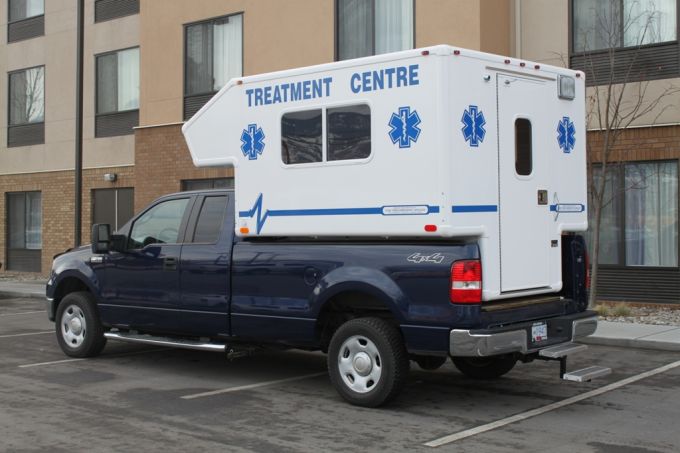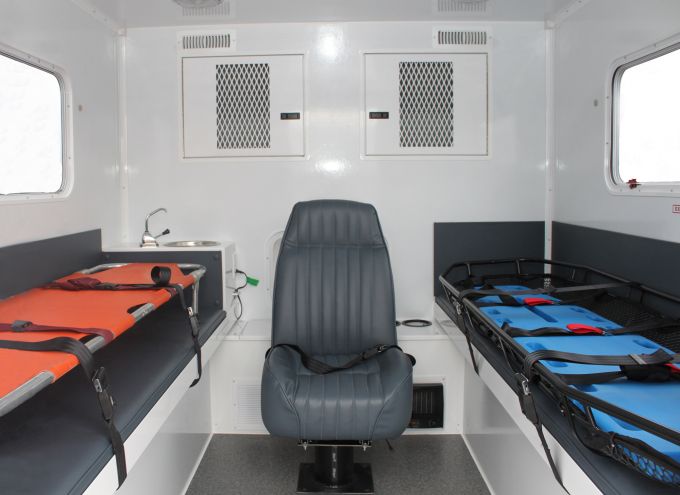 Features & Options
Standard Features 
Camper style with honeycomb core. 
Aluminum outside skin.
Easy clean filon interior.
72" headroom.
 Padded dual stretch capability.
Sink with running water.
Attendant's seat/treatment chair
Shoreline power  c/w 110V GFI outlet. 
Interior lighting (4) 12v HI / low cot lights.
110v electric interior heater. 
12v 30,000 BTU automotive heater. 
Double 'E' size O2 tank holder. 
Large overhead storage compartments.
Regulation  size escape window.
Reflective star of life decals. 
Treatment centre decals.
Rear loading/scene light. 
CAN Motor Vehicle Safety Standard certified. 
Custom Options 
DESCRIPTION
Loading, Installation and Hookup 
Includes: Electrical Harness/Water Hoses/12 volt connectors/Vehicle Tie-Downs
Inside Options
Small Wound Treatment Cabinet 24" H x 20" L x 10" D
Large Cabinet 10" H x -60" L x 10" D
Ceiling Grab Rail
Oxygen / IV
Ferno # 521 Portable Oxygen or Entinox tank  holder  (location TBD) each
Bracket for "M" 02 tank  Location Front Wall
"M" size O2 Tank complete with Regulator and Flow meter
"IV" Hook
Outside Options
Rear Step 
Custom Decals (submit drawing and colors)
First Aid Equipment (per B.C. WCB equipment lists)
Level 3 Kit  - complete with soft pack and portable O2 kit (1 x "D" tank)
Industrial Ambulance Equipment  (Includes Backboard but not Basket stretcher)
First Aid Room Equip. W / Out Treatment Chair or Bed 
Traverse Rescue (Ferno ) Basket  Stretcher
 "D " 02 Tank, ( 30 min)  (one Standard with level 3)
Ferno  201 Nanjo Lite Back board ( 1 std in Industrial Ambulance Package)
---