Ultramedic
Photo Gallery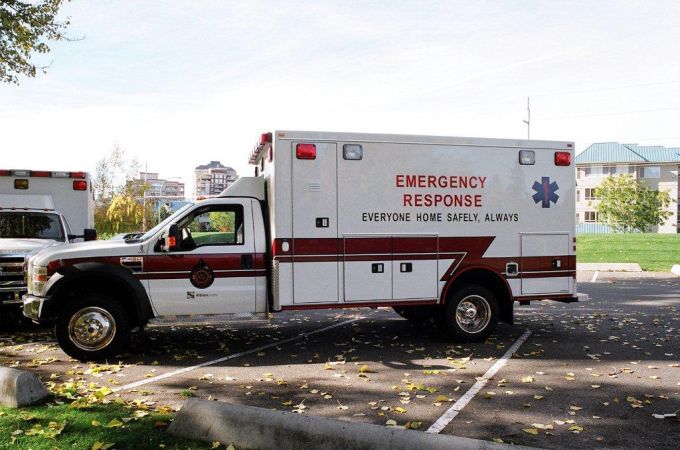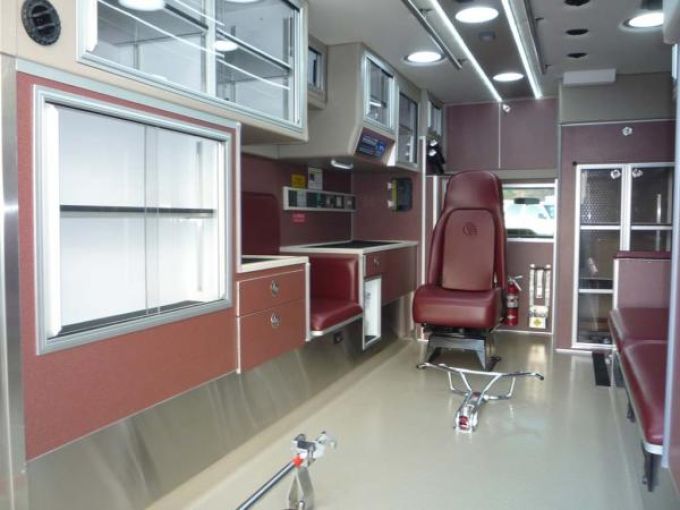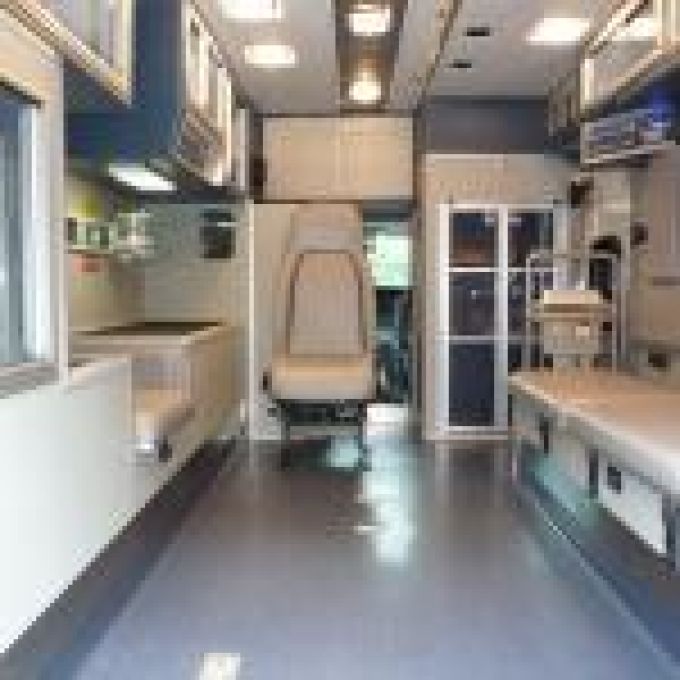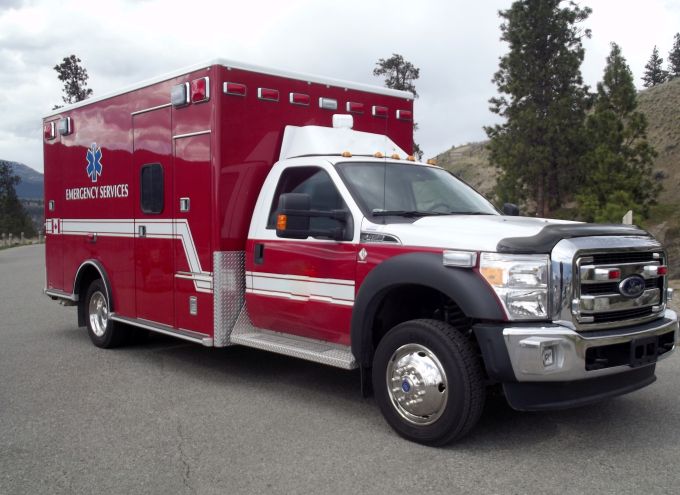 Features & Options
Ultramedic Standard Features

Chassis
Ford F450, 108" CA, 189" WB, 16,000 GVWR.
NFPA Aluminum Running Boards.
Air suspension with lowering feature.
Stainless Steel Wheel Inserts. 
Module Requirements
Module 168" long x 96" wide.
Interior headroom 70".
KKK- F, QVM and FMVSS Certified.
Warranties
Lifetime Modular Structural Warranty.
7 Year/70,000 mile Electrical Warranty 7 Year/70,000 mile Paint Warranty.
3 Year/30,000 mile Conversion Warranty.
Module Exterior
Box Pan Formed construction.
Seamless CNC cut and formed .125 aluminum, side
and front walls.
2" x 2" Structural wall tubes, 12" on center.
Module insulated with 2" polystyrene, expanding foam
and 3M Thinsulate.
Single piece roof sheet, continuous perimeter weld.
Crowned roof.
Ladder Frame floor substructure.
Rigid, soundproof foam injected floor for enhanced
thermal acoustic insulation.
(10) module-to-chassis mount points.
Double Box Pan Formed doors with Hidden Hinge.
Foam injected doors with weather seal on door.
Extruded door frames.
Heavy duty chrome door handles with floating cam.
Extruded rubber Rub Rail and fender ring with
replaceable Scotchlite insert,
Aluminum wheel well liners for full jounce.
Drip rail over all doors with no fasteners.
Exterior components installed with isolation material.
Module Compartments
Box Pan Formed Compartments.
Sweep out compartment bottoms.
Heavy duty polyurethane spray coating.
Stainless steel door sills.
Gas shock door hold opens.
Diamond plate aluminum shelves.
Maintenance free magnetic door switches.
#1 Compartment oxygen storage.
#2 Compartment miscellaneous storage.
#4 Compartment spare tire and equipment.
#6 Compartment backboard storage.
#8 Compartment Inside/Outside access.
Paint
PPG Delfleet brand paint.
Doors painted separately (paint under hinges).
Entire module base coat, clear coat with complete sand and buff,
Module Interior
All cabinets aluminum Box Pan Formed construction.
Upper cabinets, hinged sliding Acrylic doors with gas shocks for restocking and cleaning.
Infinitely adjustable aluminum shelves.
Upper area vinyl covered, including cabinets Vacuum formed vinyl attendant seat and cushions.
Lower area plastic laminate covered, including cabinets.
Stainless steel kick panels on entrance doors.
Gas shocks on CPR seat and squad bench lids.
Stainless steel pull ring slam latches.
Medical device rail action wall, ceiling and squad bench.
Cushioned ceiling with seamless vinyl.
Rubber crash protection on cabinet corners.
Solid surface countertop.
Overhead Grab rail and entrance door handles made from anti-microbial stainless steel.
Two flip down recessed dual plasma hangers.
Removable combination arm rest/waste and sharps holder at head of squad bench.
Extruded 4" high, aluminum floor radius.
Industrial grade linoleum, 4" up side walls.
Cab to module Fluid Dam.
Electrical General 
All wiring color-coded for function every 3 in.
All components have separate ground wire terminated
at ground buss.
All devices, switches and outlets rated to 125% of
maximum load.
Two complete sets of as-built detailed wiring diagrams.
Laminated master diagram, power distribution.
Vehicle Systems
Easy access power distribution, front bulkhead Individual Printed Circuit Boards w/diagnostic indicators, removable automotive components.
Curved rocker switches with LED indicators.
Electro luminescent backlighting for switch panels and indicators.
Dead front indicators as required by KKK-F.
Adhesive-backed press fit removable legends.
Spare switch and printed circuit board.
Removable console that holds switch panel, siren and space for two radio heads.
Two RG8X antenna cable prewire.
Exterior Lighting
(3) OEM battery system wired to chassis ignition.
Digital volt and amp meter with Hall Effect sensor.
Battery charger prewire.
12 Volt power outlets, action wall and ALS.
Emergency Systems
Front wall mounted 4500 halogen flasher/rotator light bar.
(6) Whelen 900 Red flashing lights, sides and rear (2) Whelen 700 Red flashing Grill lights.
(2) Whelen 700 Red Cab Intersection lights.
(1) Whelen 700 Amber light, center over rear doors Chrome Trim Rings all exterior lights.
Load manager/sequencer.
Whelen WS-295-HFS-A1 siren with diagnostics and hands-free switching.
Cast Products dual 100-watt siren speakers Back-up alarm with cut-off switch.
Exterior Lighting
Whelen LED Marker, Clearance and License lights with Chrome trim.
(6) Model 600 halogen backup/brake/turn signals.
(4) Model 900 floods on sides, (2) Model 700 rear.
Interior Lighting
Whelen 86 halogen lights recessed in ceiling.
60 Min. solid state restocking timer with momentary switch.
200,000 candle-power handheld spotlight.
Action wall counter light. 
Electrical 110 VOLT AC
15-amp straight blade shore power w/toggle GFI
(2) Hospital grade illuminated outlets, action wall and ALS cabinet.
Prewire for Vanner inverter.
Environmental Systems
Combination 23,000 heat, 32,000 cool, 650 CFM system.
Conditioned air distribution, recessed full length of module with 6 vents and hidden return air at ALS.
Single, speed 100 CFM exhaust fan.
Medical Systems
Single center position, Ferno or Stryker cot fastener Medical oxygen outlets, (2) action wall and (1) head of squad bench,
Electric oxygen low pressure control with manual bypass.
SSCOR onboard suction system with regulator and canister.
Zico universal 7"-9" diameter cylinder holder.
---